We live in a world where we are constantly being over stimulated, but does that overstimulation in some twisted way lead to inspiration?


Are you with me or are you thinking I've lost my mind? Hang tight and just go with me for a minute. There is a fine line between inspired and overstimulated, but very often it's in that fine line that I get my best creative juices flowing. Let's start with where I pull inspiration from.
My color inspiration almost always comes from nature and the everyday world. I notice the colors of the season, the way the sky changes with the seasons and the weather. There is no better color inspiration than that of Mother Nature. She's an amazing artist. Where else would you find color combinations like this?
Moving beyond color and nature I pull inspiration most often from the online world of Instagram, Facebook, Pinterest, Blogs, etc. This is where the fine line between inspiration and overstimulation comes into play.
I follow a number of artists. People who paint. People who create cards. People who knit. People who travel the globe. People who live in renovated old buses. People who create mixed media. people who design jewelry. These are just a few of the types of people I draw inspiration from.
I've been asked why as a card maker and pen and ink illustrator I follow artists and creatives who have nothing to do with my field of creativity. It's about a lot more than just seeing what they create. I'm inspired by seeing their journey, getting a glimpse into their creative space, and following their story.
I've followed Meg from
Made by Meg Sea Glass Jewelry
, from her beginning. I love seeing her create and knowing how far she's come in her jewelry journey. This week she released a new line of sea glass jewelry and I couldn't be happier for her!
I 've been following Jennifer McGuire of
Jennifer McGuire Ink
for years because she's so technique driven in a world of card making that so often revolves around just buying the latest and greatest. Her videos are fantastic and she's really passionate about kindness and handmade.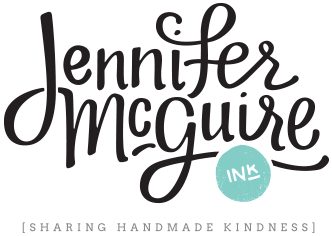 I've recently become obsessed with the podcast Cathy Heller produces called
Don't Keep Your Day Job
. While I love my day job, her energy is contagious and sparks inspiration in me to keep moving forward with finding the right fit for my own handmade business journey.
These are just a few of the amazing creative people that play a part in my daily life.
The flip side of all this wonderful stuff is over stimulation. It happens to all of us!! I get overstimulated and that's when I unplug, but since I've adopted the attitude that my online space is all about me, I rarely get overstimulated.
The key for me is to unsubscribe, block, hide and ditch anything in my feeds that I don't enjoy seeing. Yes, that does mean I don't "follow" all my friends on Facebook. This is my online world and I control it. If it doesn't make me happy I don't want it in my life. Cheesy? Yes, perhaps, but the online world isn't the real world and you have to control it. If it makes you angry, frustrated, irritated or even feel bad about yourself, it's time to clean your virtual house.
I hope you find this post inspiring. I'll be doing more with this topic and building Inspiration into a regular series. I'd love to know your thoughts and what inspires you. Leave me a comment and share your ideas.