I'm new to the slimline card party, and I'll be honest I'm not sure I'm staying. I'll need to make a few more before I make a final decision, but so far they aren't my jam. This past week I cased Pinterest for some inspiration and here's what happened.
Pin-spiration #1: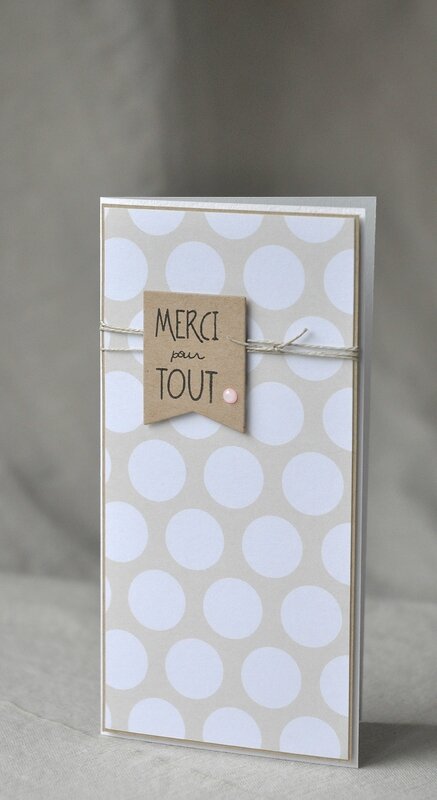 I was inspired by this card from the Le nouveau scrap de Christine B blog. Yes, the blog is in French, but that's not important. I was drawn to the kraft and white color palette, and the clean lines of this card.
I'm a sucker for kraft and white. It's quite possibly one of my favorite combos. I use a lot of kraft and white paper in my own card style, so that is perhaps why I was drawn to this card when I saw it on Pinterest.
I was also very drawn to the big dots, knowing full well I could recreate this look with some ink and my large dot stencil. I believe in the inspiration card it's pattern paper, but I'm not 100% sure on that.
My next challenge was finding something of the right proportion to replace the sentiment banner. Knowing I didn't have a banner of that size and style, I dug through my dies and settled on a small stitched square that created a similar effect on my finished card.
For the finishing touches, I use some cream-colored crochet thread for twine and added a small heart rather than the enamel dot used in the inspiration photo above.
Pin-inspiration #2:
Inspiration for card two came from the blog Kreativ Format blog. This is a German blog, but again it's about the photo and the inspiration, not the language.
I was very drawn to the color palette of this card because of the bright pop of warm pink in the striped pattern paper.
I selected one floral die rather than creating a bouquet and skipped the twine bow. I skipped the white splatters in the background of the patterned paper because the pattern of the paper I selected already had a small dot-like pattern.
The second change I made was opting to use a small bird in place of small black banner sentiment on the inspiration card. I popped my white sentiment banner up on foam tape.
Both results created nice cards, but what seems to be a larger canvas to create a design on isn't my fave. I really do like the size of an A2 card over the size of the slimline. Maybe that will change as I experiment more. What do you think? Are you a slimline lover?